My musical tastes are fairly limited.  As a kid my mom mostly listened to oldies stations and my Dad listened to NPR.  When y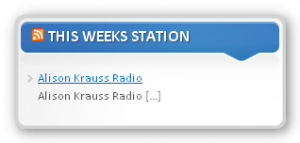 our favorite "songs" are Morning Edition and All Things Considered you might end up a little musically declined.  My wife's family appreciates music for all of it's artistic greatness.  They listened to a lot of different music growing up, can sing, play piano and one of them is even in a band.
I enjoy listening to a lot of different music (just not rap music for some reason), but it isn't something that I really seek out.  In addition, for me it is really filler/background part of the environment.  I can listen to a song 20 times and still not know the lyrics, artist, etc.   So in an effort to expand my musical experiences I am moving forward with a project to listen to a new artist each week on Pandora until the first of the year.  This is a great way to experience some new music and possibly find some really great artists that I haven't heard of.
Each week you can see the artist that I am listening too at the top left corner of my blog (screen shot of what to look for to the right).  What I need is some suggestions of artists to listen to for the next couple of weeks.  So far I have listened to the artists below:
Allison Krauss (this weeks selection)
Derek Webb
James Taylor
Josh Turner
Carrie Underwood
Yanni